Buffalo Zoo Rhino Pregnant Through Artificial Insemination
The Buffalo Zoo has accomplished another successful artificial insemination (AI) of its greater one-horned rhinoceros, Tashi who is expected to give birth in Summer 2019. In 2014, the Buffalo Zoo made history as the first organization to use artificial insemination to produce a greater one-horned rhino who survived past early infancy. That rhino, Monica now lives at the San Diego Zoo Safari Park, where she is part of a breeding program and is anticipated to produce many offspring of her own.
"It's another historic event for the Buffalo Zoo, and we're very hopeful Tashi will carry the pregnancy to term, said Norah Fletchall, President and CEO of the Buffalo Zoo. Together with our partners, we're doing all we can to save this critically threatened species."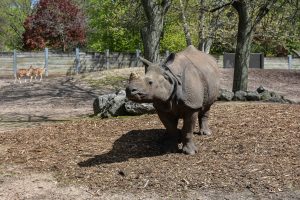 As with the last artificial insemination procedure, the Buffalo Zoo veterinary and animal care teams collaborated with other zoos across the country who are part of the worldwide effort to save this threatened species. Dr. Monica Stoops from the Center for Conservation and Research of Endangered Wildlife (CREW) at the Cincinnati Zoo & Botanical Garden in Cincinnati, OH worked with the team at the Buffalo Zoo to plan and conduct the procedure. Dr. Stoops is a reproductive physiologist who specializes in the Indian Rhino species. The Buffalo Zoo has enjoyed a longstanding relationship with Dr. Stoops, and she and her team were integral to the success of both procedures.
The sperm used for the insemination came from a male rhino named Suru, who lives at Zoo Miami in Miami, FL. In January 2018, Dr. Stoops and her colleague Dr. Jessye Wojtusik, also a reproductive physiologist traveled to Zoo Miami and worked with the rhino team and researchers at South-East Zoo Alliance for Reproduction and Conservation (SEZARC) to collect and bank sperm from Suru.
"Tashi's pregnancy is the result of teamwork and collaboration between multiple zoos and organizations," said Dr. Stoops.  "We look forward to celebrating the birth of a healthy calf and what it represents for rhino conservation efforts."
The partnership between the Buffalo Zoo and CREW is made possible by a generous grant donation from the Institute of Museum and Library Services (IMLS). The grant was designed for expanding access and building capacity for African and Asian rhino reproductive care within North American AZA/WAZA facilities.
Tashi can currently be seen in her habitat, where she spends most of her day soaking in the pool. The Buffalo Zoo will be celebrating World Rhino Day this Saturday, September 22 from 11:00 a.m. – 2:00 p.m. Zoo guests will be able to enjoy keeper talks, themed activities and rhino encounters. The Buffalo Zoo is open daily from 10:00 am to 4:00 pm, seven days a week, 363 days a year.