Easter Eggsperience at the Buffalo Zoo (Canceled)
April 5, 2020 @ 8:00 am

-

10:00 am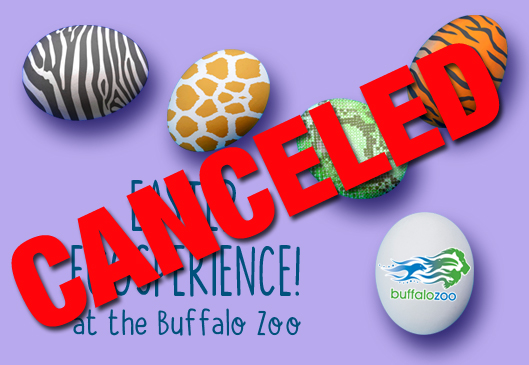 Because nothing is more important than the health and safety of our guests, team members, and animals, the Buffalo Zoo is temporarily closed beginning Saturday, March 14 through Saturday, March 28, 2020. We believe this is the right decision for our community to help curb the spread of illness. It is important to note, there are no cases of COVID-19 at the Buffalo Zoo, including the animals in our care.
Due to the unprecedented situation and day to day developments regarding the safety and well being of our community, The Buffalo Zoo Easter Eggsperience, scheduled for April 4 and April 5 is canceled. We understand this can be frustrating if you have already purchased tickets and made plans around these dates. However, we have a few options for the tickets you have purchased:
Transfer your tickets to another event:

 You can transfer your tickets at no cost to the Zoo's UnBOOlievable Halloween Party on October 2, 3, 10 or 11, 2020 (5:30 pm to 7:30 pm), or the Zoo Lights sessions on Fridays, Saturdays, and Sundays beginning November 28th through December 23rd (6:00 pm to 9:00 pm). Simply reply to this e-mail with your event choice and the session time. 

Donate to the Buffalo Zoo: 

The Zoo relies heavily on its admissions and event ticket sales to provide exceptional care, food, and supplies for the animals and salaries for our zookeepers and other team members. Closing the Zoo during this time is the right decision, but it is also difficult and the loss of much-needed revenue to support the care of the animals is concerning.

 You can choose to transfer your ticket cost to a donation to the Buffalo Zoo. Simply reply to this e-mail with the word "Donate."

Request a Refund:

Given the circumstances, we are relaxing our ticket terms and conditions. You may request a refund by replying to this e-mail.
If you have any questions, please give us a call at (716) 837-3900. We will be happy to assist you in any way we can. 
An event at the Zoo is unlike any other!