2019 Buffalo Zoo Photo Contest
December 1, 2019

-

December 31, 2019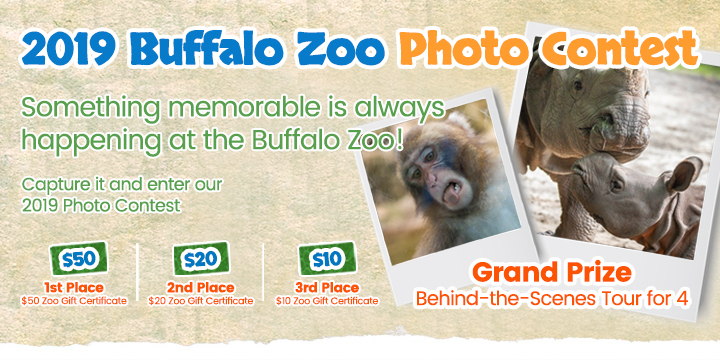 2019 Buffalo Zoo Photo Contest
Something memorable is always happening at the Buffalo Zoo! Capture it and enter our 2019 Photo Contest.
Photo Contest Categories:
– Animal Portrait
– Animals in Action
– People at The Zoo
– Youth (photographer is 16 years old or younger)
Prizes: 
Grand Prize – Behind-the-scenes tour for four
Event Category:
1st Place – $50 Zoo gift certificate
2nd Place – $20 Zoo gift certificate
3rd Place – $10 Zoo gift certificate
Submit your photos December 1 – 31, 2019. Winners will be notified by February 2020.
Photo Contest Rules:
1. The contest entry fee is $5.00 per photo due at time of submission.
2. Photos must be taken at the Buffalo Zoo in 2019.
3. The deadline for entry is noon on December 31, 2019.
4. All submissions will be evaluated by a panel of judges. Awards are based on the image's artistic merit and depiction of the contest category. All awards are at the discretion of the judges, and their decision is final.
5. Participants may enter as many photos in each category as they wish.
6. Individuals appearing in a photo give their consent to having their (or their minor children) photo taken, and for the photo to be used for any zoo-related purpose.
7. The Zoo is not responsible for any technical issues related to photo submission.
8. Zoo employees or Board members are not eligible to enter.
By submitting photos, all photo contest entries become the property of the Buffalo Zoo. The Buffalo Zoo is granted the right to use these photos for any zoo-related purpose.
Submissions will be deemed ineligible for the following reasons:
1. Images taken prior to January 1, 2019.
2. Photos that have been digitally altered beyond standard optimization (cropping, reasonable adjustments to exposure, color and contrast, etc.) will be disqualified.
3. Photos that violate or infringe upon another person's right, including but not limited to copyright.
4. Images that involve putting any individual or animal in danger.
The Buffalo Zoo shall determine entry eligibility in its sole and absolute discretion.
Submission Link: https://www.gogophotocontest.com/thebuffalozoo
An event at the Zoo is unlike any other!