Zoo Family Campout
August 27, 2021 @ 5:30 pm

-

August 28, 2021 @ 9:30 am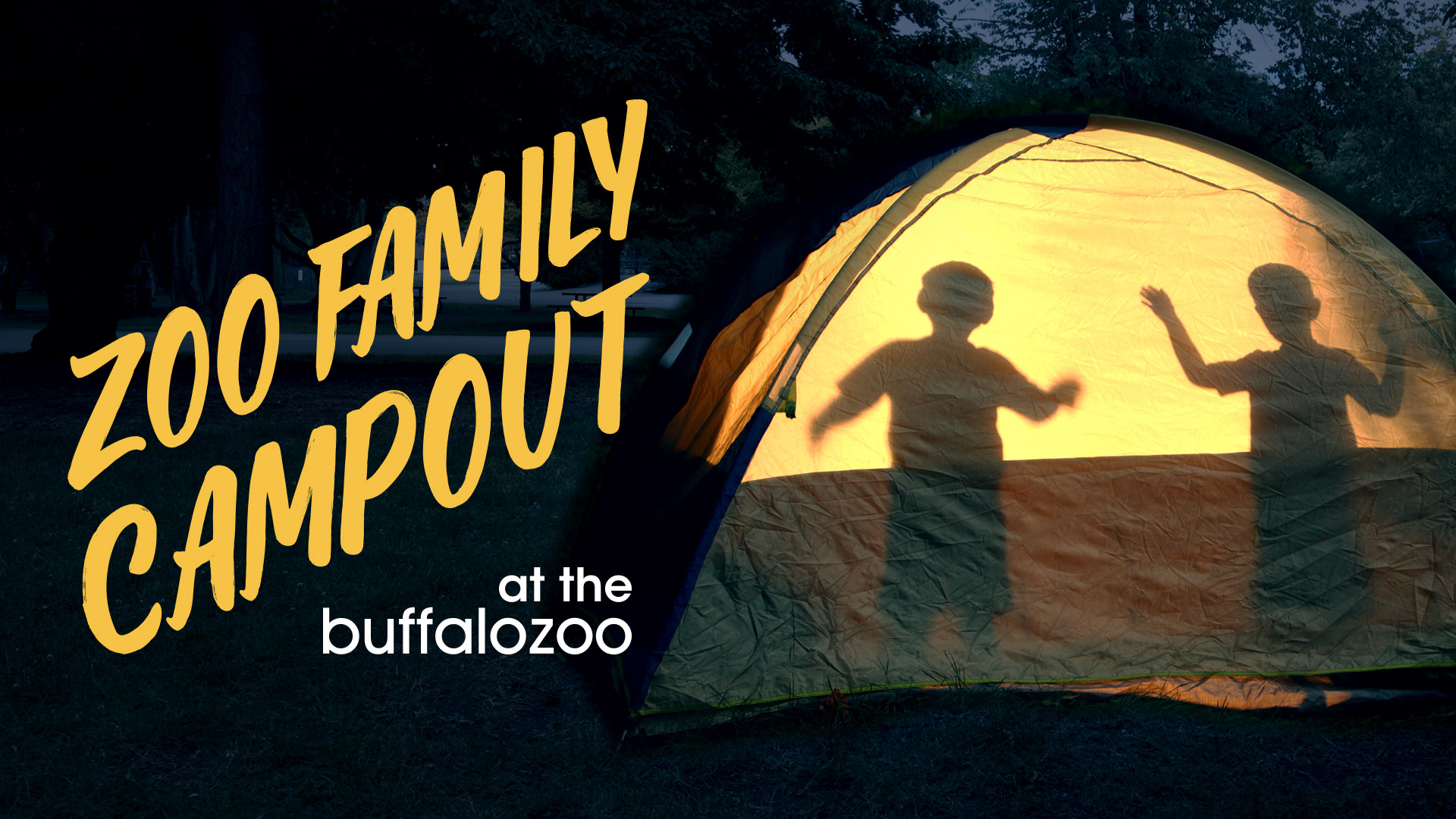 Have you ever wondered what it's like to spend a night at the Buffalo Zoo? Find out on August 27 at our first-ever Zoo Family Campout!  
Grab the family, load up your gear, and spend a night underneath the stars at the Buffalo Zoo! This fun-filled evening includes dinner at Wild Burger, keeper talks, unlimited train and carousel rides, "Zoo"-vies on Gazebo Lawn, a s'mores station and of course, animals! At sunrise, a delicious breakfast will be waiting for you inside Slice Restaurant to cap off this one-of-a-kind overnight adventure.  
Overnight tickets are sold by campsite and include a maximum of six guests per site. Don't want to stay overnight? Purchase a ticket for evening activities only! 
Space is limited. Purchase your tickets today! 
Date: 
Friday, August 27, 2021 at 5:30pm until 9:30am on Saturday, August 28, 2021 (Overnight Guests)

 

Friday, August 27, 2021 from 5:30pm to 11:00pm (Non-overnight Guests)

 
Rain Date – Friday, September 3, 2021 to Saturday, September 4, 2021 
Tickets: 
Overnight Camping: 
Groups of up to six guests: $250 per group

 
Individual Non-Overnight: 
Ticket Description: 
Each ticket for the Zoo Family Campout includes after hours access to the Buffalo Zoo starting at 5:30pm. Animals will be on exhibit from 5:30pm until 8:30pm with keeper talks taking place throughout the evening, followed by "Zoo"-vies at 9:30pm on Gazebo Lawn. Free train and carousel rides are available for all guests until 9:00pm. Dinner at Wild Burger is included with your ticket purchase, as well as breakfast the following morning for guests spending the night. Additional food items, including movie and late-night snacks, essentials, and souvenirs are available for purchase.    
Zoo Family Campout is a special event designed to celebrate the summer season, spend time with family, and get a glimpse into what goes on at the Zoo when the sun goes down! To ensure the best experience, please note the following: 
Groups spending the night will receive a 12' x 12' campsite on Zoo grounds. No more than six guests per campsite. 

Campers must provide all camping equipment and be able to load equipment in and out of Zoo grounds. Personal vehicles are not allowed on Zoo grounds. 

 

Only tents will be permitted. No RVs, pop-up campers, or trailers are allowed.

 

Campsites do not have electricity or plumbing hookups. Restrooms will be available.

 

Please do not shine flashlights in any animal habitat or disturb animals in any way. 

 

Overnight guests will have access to the Zoo from 5:30pm on August 27 until 9:30am on August 28. Guests must be packed up and depart Zoo grounds by 9:30am, August 28. Evening guests will have access to the Zoo on August 27 from 5:30pm until 11:00pm. 

 
Free overnight parking in our parking lot is included in your ticket.

 

Quiet hours will begin at 11:00pm on August 27 and remain in effect until 7:00am on August 28. Please be respectful of all guests on Zoo grounds. 

 

Pre-paid, non-refundable, non-transferable tickets are required to attend Zoo Family Campout. Should a ticket holder be unable to attend, your purchase will be considered a donation. There will be no refunds, nor will tickets be honored at another Zoo Family Campout or year. In case of inclement weather, the Zoo Family Campout will be rescheduled for Friday, September 3, 2021. This decision will be made on August 27 at 12:00pm. An email will be sent out notifying guests of the change.

 

Buffalo Zoo Members receive a special member discount for individual, non-overnight tickets. Please bring your valid Buffalo Zoo membership card and identification to the event. A $5.00 per ticket fee is charged for Members who cannot provide a valid Buffalo Zoo membership card and identification.

 

Member level tickets are non-transferable. The Member's name must be on all tickets purchased, and the Member must be present with a valid Buffalo Zoo membership card and identification at entry.

 
During your visit, we require the use of face masks/coverings for all non-vaccinated guests ages two and up when indoors. 

 
An event at the Zoo is unlike any other!