Buffalo Zoo Job Fair 2023
March 25 @ 3:00 pm

-

7:00 pm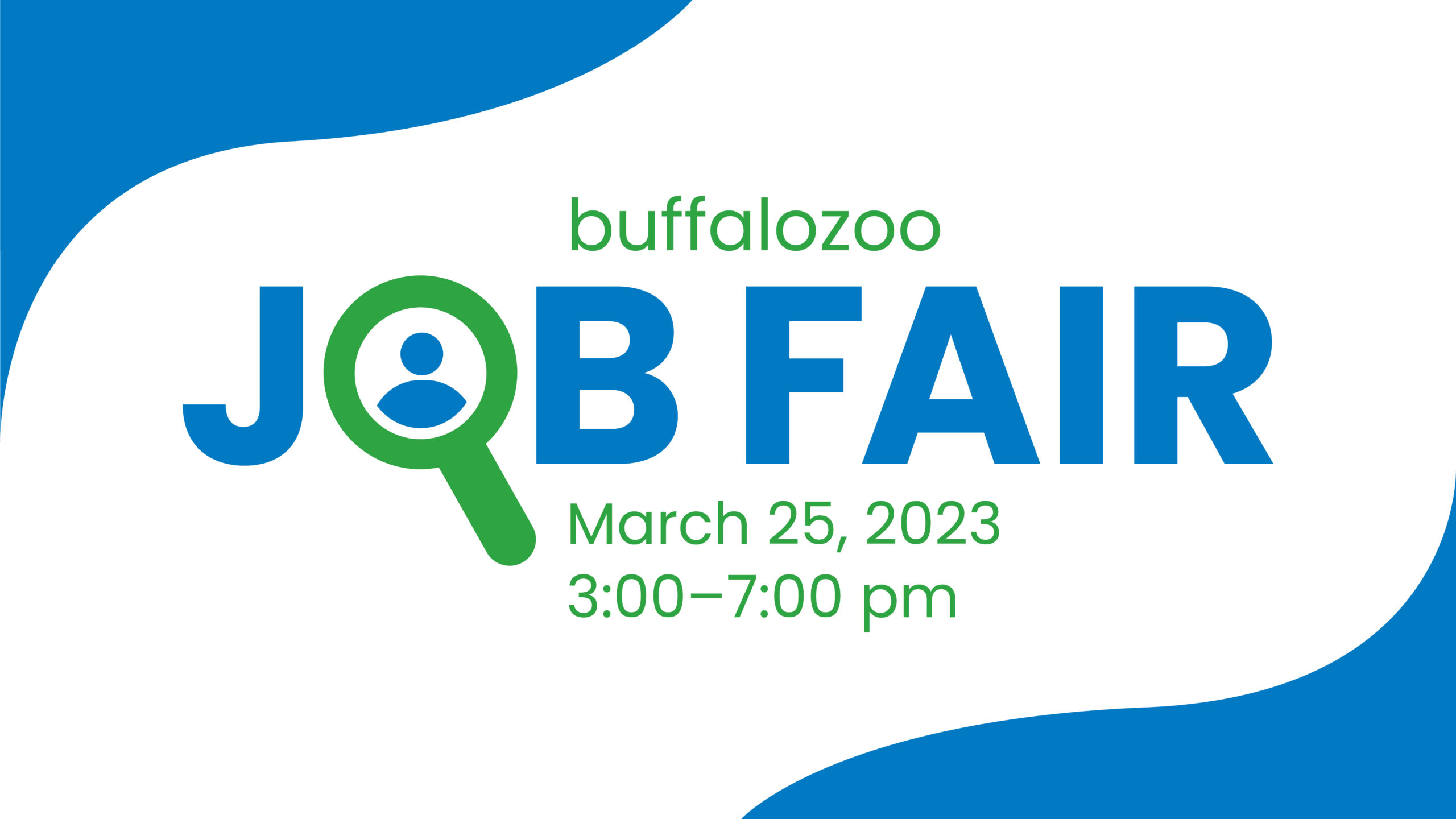 Ever wonder what it's like to work at the Buffalo Zoo? Stop by our Job Fair on Saturday, March 25 to find out! Learn about the fun seasonal part-time job opportunities across our Education, Guest Experience, and Gift Shop and Food Service departments. See below for a full list of job openings. Get your resume ready and come meet with our hiring managers to find your perfect place on the Zoo team!
No pre-registration required. The Buffalo Zoo job fair is only for seasonal part-time job opportunities. Candidates may park in the main Zoo parking lot located on the corner of Parkside Avenue and Jewett Parkway free of charge. Upon arrival, please follow the Delaware Park ring road down to Gate 9 for the entrance to Zoofari Courtyard where you will check in. Do not enter through the main entrance of the Buffalo Zoo. The Buffalo Zoo Job Fair is Saturday, March 25, 2023, from 3:00 pm to 7:00 pm. We look forward to meeting you! Please contact 716-837-3900 with any questions.  
JOB PERKS FOR SEASONAL EMPLOYMENT:
Associates are eligible to receive up to two (2) free family passes to the Zoo annually. These associates will be required to work a minimum of 30 days per season to qualify.
All active associates are eligible for discounts at food service and the gift shop. The food service discount is 30%. The gift shop discount is 20% for purchases of $10 or more.
On occasion, discounts on Zoo events are offered to associates, i.e. discount on the price of a ticket to a Zoo event or free tickets.
Buffalo Zoo merchandise
Accrued sick time
Flexible scheduling
Pay rate increases based on performance and years of service
SEASONAL PART-TIME JOB OPENINGS
EDUCATION
SUMMER ZOO CAMP COUNSELORS
18 years and older
Rate: $14.20 per hour
July 10–August 18, 2023 (training in late June and/or early July)
Standard Shift: 8:15 am–4:15 pm
Camp Counselors supervise and lead groups of campers ages 6–12 Monday–Friday during the six-week Summer Camp program. Counselors are responsible for overseeing the fun, safety, and wellbeing of campers; and assisting with delivery of camp curriculum and activities. Applicants should possess an enthusiastic outlook, upbeat, fun-loving personality. Current or retired teachers and college students majoring in Education, Biology or related fields are encouraged to apply. Must have experience working with children.
Click HERE for more information
EDUCATION ASSISTANT
16 years and older
Rate: $14.20 per hour
22–30 hours per week
Education Assistants rotate through various locations in the Zoo, interacting with guests in fun, educational experiences—such as interpretive talks in front of animal habitats and public encounters with education animal ambassadors (reptiles, insects, birds, small mammals); Heritage Farm and Goat Island animal contact areas; mini show experiences; and other education projects. Must be able to work holidays, weekends, and occasional evenings. Must be able to maintain a friendly and positive attitude towards guests and coworkers. Basic knowledge of animals and related conservation initiatives is a plus. Must be able to work outdoors in all weather conditions.
Click HERE for more information
GUEST EXPERIENCE
GUEST EXPERIENCE ASSOCIATE
Admissions/Rides & Attractions Areas
Rate: $14.20 per hour
Be a part of the team that welcomes all to the Buffalo Zoo! Guest Experience associates project a high level of guest service by assisting guests with entry, delivering accurate information in a warm and friendly manner, and ensuring their safety as they participate on our rides and attractions. Experience with guest interaction, cash handling, and computer systems is desired. Guest Experience associates work outdoors in all types of weather conditions and must be available on weekends, holidays, and occasional evenings.
Click HERE for more information
CLEAN TEAM ASSOCIATE
Are you someone that pays attention to all the details and goes above and beyond the call of duty? Help us welcome all by ensuring the cleanliness and sanitation of Zoo grounds, restrooms, offices, classrooms, and guest facing areas. Clean Team associates show we care by sanitizing high touch areas and completing daily cleaning checklists to ensure the Zoo is always in tip top shape! Clean Team associates work outdoors in all types of weather conditions and must be available on weekends, holidays, and occasional evenings.
Click HERE for more information
GIFT SHOP AND FOOD SERVICE (SSA GROUP)
(applicants would be applying with an employed by SSA Group. Job perks provided by SSA Group are separate from Buffalo Zoo job perks).
GIFT SHOP ASSOCIATE
Gift Shops are now hiring fun, energetic, silly, optimistic, and outgoing people to add to our team! We are looking to fill seasonal Sales Associate positions for our Spring and Summer season. Cleaning and restocking merchandise are necessary job duties to be completed after the Zoo closes. There will be shifts outside, regardless of weather, selling to guests, with a positive attitude.
FOOD SERVICE ASSOCIATE
Food Service is looking for energetic, hardworking, and professional people to join our team. Responsibilities include taking orders, cash handling, serving food and beverage, hot and cold, cleaning, stocking, demonstrate knowledge of the menu, being able to communicate with our guests and other staff, assisting with washing dishes when necessary, and most importantly treat all guests with exceptional service.
The Buffalo Zoo is an At Will employer and all Buffalo Zoo employees are subject to employment eligibility and background security
checks, as well as testing for illegal substance use as allowed by law.
Equal Opportunity Employer
An event at the Zoo is unlike any other!